Gildan
Sustainability in 2020: A Year in Review at Gildan
Gildan's longstanding vision of Making Apparel Better® has guided the Company in managing every aspect of its business. Given its strong foundation of sustainable and ethical practices, Gildan has continued to prioritize sustainability in 2020.
With the help of the Company's environmental, social, and governance (ESG) program, Genuine Responsibility®, Gildan has been taking great strides to make positive impacts over the years by introducing effective programs for employee wellness and health, as well as organizing numerous sustainability initiatives and community engagement efforts across the regions where the Company operates. Now, as 2020 draws to a close, the Company revisits some of this year's initiatives and achievements as it looks forward to a new year of continued ESG commitments:
Named One of the World's Most Sustainably Managed Companies
In 2020, Gildan distinguished itself as a leading apparel company with its inclusion on the Wall Street Journal's new ranking of the Top 100 Most Sustainably Managed Companies. Gildan ranked 32nd overall and claimed second place among only three apparel companies to make the list.
Find out more about this important achievement here.
Eighth Consecutive Year on the Dow Jones Sustainability Index
For the eighth year in a row, Gildan's commitment and successes around ESG practices awarded it yet another inclusion on the Dow Jones Sustainability Indices (DJSI). The Company was the only apparel manufacturer to be included in the North American index.
Read more here to find out where Gildan achieved top scores and in which areas it saw improvement from last year's ranking.
Leadership band on CDP's 2020 List of Companies Leading Corporate Action Towards Climate Change
In December of 2020, Gildan was included as a top performer on CDP's 2020 Climate Change Report. Gildan's A- score placed the Company in CDP's leadership band for the second consecutive year, well above the apparel design sector average of C.
Learn more about this recognition here.
13th FUNDAHRSE Seal for ESG Work in Honduras
Gildan received its 13th consecutive Corporate Social Responsibility (CSR) Seal from the Fundación Hondureña de Responsabilidad Social Empresarial (FUNDAHRSE) for the Company's environmental, social, and governance (ESG) work in Honduras. With this, the Company marked its continued commitment to making local investments directed at improving the lives of Gildan employees, conserving the environment, and supporting community health and development.
Read more about this award here.
Humanitarian Efforts to Support Those Affected by Hurricanes Eta and Iota
In the wake of damage left by hurricanes Eta and Iota in Central America, Gildan initiated a humanitarian aid plan aimed at supporting its employees and helping surrounding communities recover and rebuild. As part of this plan, the Company donated 150,000 pieces of clothes and 1 million masks, in addition to distributing over 7500 emergency kits that included food and toiletry supplies, and finding shelter for employees and other community members displaced by the hurricanes.
The Company also set up a Hurricane Relief Fund in partnership with the Choloma Chamber of Commerce to help both Gildan employees and their communities. You can donate to the fund here.
Commitment to Supporting Manufacturing Employees during COVID-19
During the COVID-19 pandemic, the health and security of employees working across apparel supply chains have become critical points of conversation. Since the onset of the outbreak, Gildan has taken great measures to harness the Company's vertically-integrated business model, alongside its longstanding commitment to employee wellness, in order to continue protecting the health and prosperity of its people. Throughout this effort, Gildan has worked closely with local teams, organizations, and governments across its supply chain to support manufacturing employees, ensure that their rights remain protected, and continue to prioritize their health and safety above all else.
Production of Personal Protective Equipment (PPE)
Earlier in 2020, Gildan re-tooled its facilities in order to produce non-medical face masks and isolation gowns at the onset of the COVID-19 pandemic. Through this special effort, the Company harnessed its manufacturing expertise to assist with lessening the global shortage of PPE in order to support frontliners and help slow the spread of the virus.
Watch Gildan's health and safety measures on the factory floor dedicated to showcasing the steps the Company took to make this venture as safe and successful as possible.
Dedication to Supply Chain Transparency
Over the years, Gildan has maintained a strong and persevering commitment to supply chain transparency, and in the midst of the COVID-19 pandemic, this commitment remained a cornerstone focus as questions about employee health and safety began to rise across the apparel industry. That's why Gildan dedicated its fourth year participating in Fashion Revolution's annual #WhoMadeMyClothes campaign to highlighting employees who made the decision to return to work and make PPE in support of the global fight against COVID-19.
Learn more about Gildan's unique yet important response to Fashion Revolution's 2020 call for more transparency in the apparel and fashion industry here.
Breast Cancer Prevention and Awareness Campaign
For the last ten years, Gildan's annual breast cancer prevention awareness campaign, known as the "Pink Tour", has helped raise awareness among thousands of women in its facilities across Central America and the Caribbean Basin. This annual initiative has become a staple among Gildan's health prevention campaigns and is now one of the most anticipated events across the Company's manufacturing employee-base.
In recognizing the significance of this special campaign, the Company was determined to keep it going in 2020 while ensuring that employees remained safe and socially distant during the COVID-19 pandemic, which is why Gildan turned this year's event into a virtual one.
Learn more about the Company's 2020 campaign here.
Empowering Women at Gildan: From Program to Possibility
For International Women's Day, Gildan launched the mini-series "From Program to Possibility" to demonstrate the positive impacts that companies can have on women in the workforce by supporting diversity, inclusion, and professional development. To accomplish this, the series explored the empowering role that its own Company programs have played on the lives of seven women across its supply chain.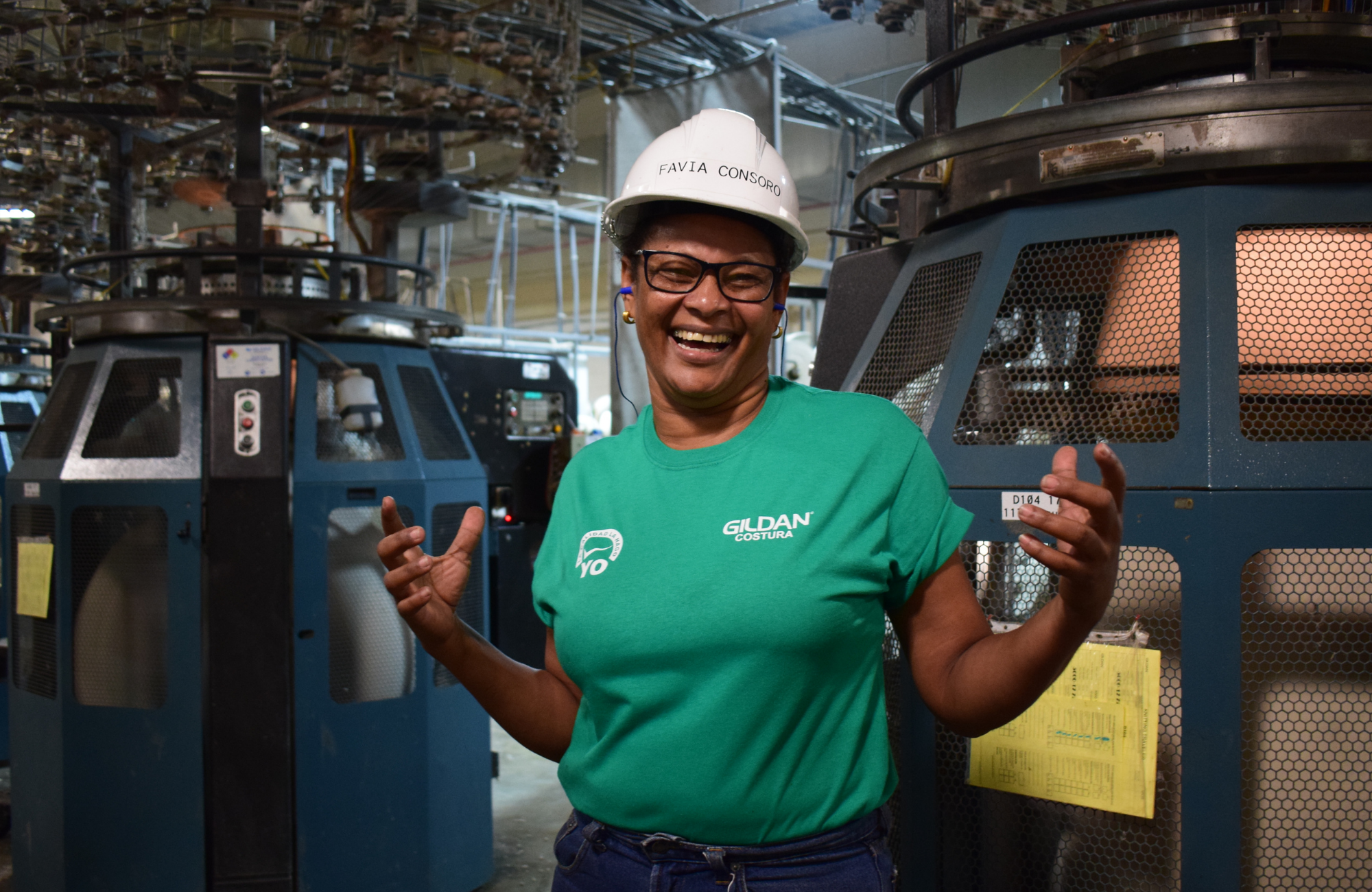 Read their stories here.
Promoting Gender Equality in Bangladesh
As part of its commitment to creating stronger communities, Gildan's ongoing partnership with Room to Read has sought to empower girls in Bangladesh through an impactful education program focused on gender equality. Room to Read, whose goal is to promote transformative education-based opportunities for children all over the world, launched this program with the ambition of helping girls get the education they need as they grow into adulthood. Over the past three years, Gildan has made contributions of over USD $120,000 into this program. Learn more here.
"We are proud of our work towards sustainability in 2020 and of the numerous positive impacts we were able to achieve in spite of this pandemic environment," says Claudia Sandoval, VP of Corporate Citizenship. "Our accomplishments this year are a testament to our unwavering commitment to ESG practices, and we will continue to stand by our people, environment, and communities with resolve as we aim to create tangible positive impacts across our operations in the years to come."