Gildan
Supply chain · Innovation
Gaining Yarn-Spinning Efficiencies through an Integrated Supply Chain Q&A with Chuck Ward, President, Gildan Yarns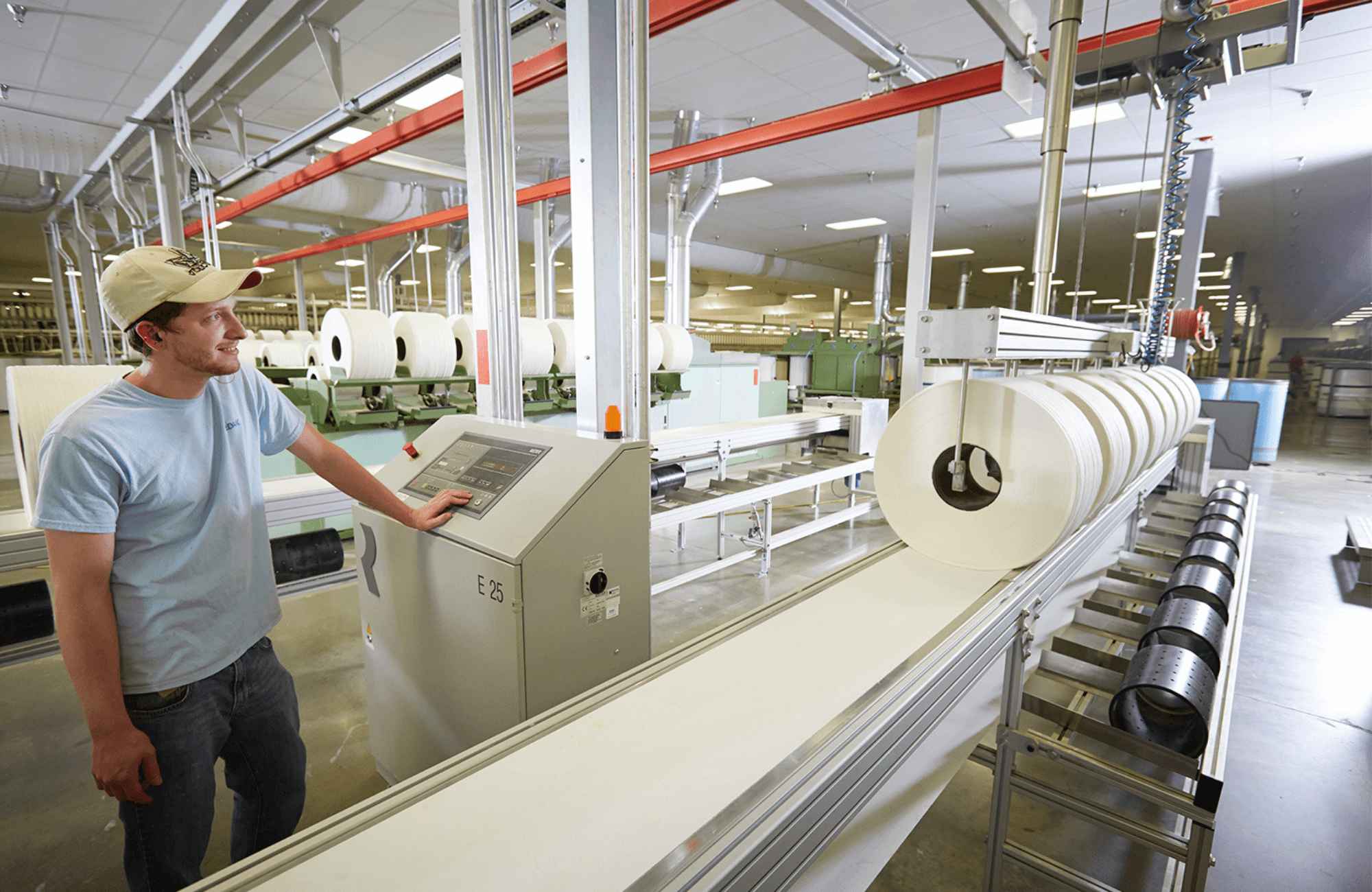 Chuck Ward, President, Gildan Yarns talks about the benefits of integrating down its supply chain by owning its own yarn-spinning facilities.
Q: Why does Gildan feel it is important to spin its own yarn? What is the benefit to the Company?
Gildan has always strived to reduce costs, increase efficiencies and leverage technology to create the most sustainable and cost-efficient manufacturing processes possible. As we looked carefully at the yarn-spinning phase of our business several years ago, we saw an opportunity to build our own modern facilities that would deliver on all those objectives. In the process we were able to add technologies and sustainable solutions that allow us to reduce our waste, largely by capturing it and efficiently recycling it back into other products. This has allowed us to create virtually zero-waste facilities that now employ close to 1,500 US workers in stable, quality manufacturing jobs. We have also been able to strategically locate the facilities in areas close to where the cotton is grown and near to our distribution centers, where transportation and logistics are optimized and energy costs are reduced.
Q: What do you feel are some of the most promising areas of innovation in yarn spinning?
Our facilities are at the leading edge of energy and waste efficiency. We have been able to design them in such a way that we are benefitting from many of the technological innovations of the past several years. Because our fiber is our single biggest cost factor, minimizing waste is a very effective way to lower costs, while also delivering a significant benefit to the environment. Our facilities likely render the lowest amount of production waste of any facilities our size.
Q: What are some of the challenges you face in the yarn-spinning industry?
One of the challenges we encounter is recruiting, training and retaining qualified employees for our seven yarn-spinning facilities in the United States that currently employ over 1,500 people. Currently, low unemployment is contributing to the challenges. Also, the complexity of the technology within our yarn spinning facilities is quite high, driving the need for trained technical staff. We are quite pleased to have successfully created training programs and have worked with local academic institutions to continue to raise the bar on available skills of the local community. As a commodity that is subject to price fluctuations outside of our control, cotton pricing is also a continual challenge. As such, we have teams of people that spend a lot of time watching the markets, speaking to farmers and understanding the variety of factors that can influence this crop.
Q: Can you describe the different kinds of spinning process that goes into your yarn?
There are three kinds of yarn spinning that we undertake in Gildan's plants:
Open-end yarns are created by breaking apart the sliver with a combing roll and forming them back together in a rapidly moving rotor. The fibers consolidate in the groove of the rotor as it turns at speeds up to 145,000 rpm creating a yarn. Open-end yarns are best suited for products such as underwear garments and heavier weight fabrics.
Ring spinning is the oldest spinning technology. First, the sliver is drafted and slightly twisted into an intermediary material called roving. The roving is then drafted further and twist is inserted as the fibers are pulled around the ring by means of a high speed spindle. Ring spinning is the most flexible spinning technology that is used to make a wide range of course or fine yarns. Ring spun yarns are characterized by their strength and softness. Ring spun yarns are typically found in the soft, lightweight fabrics seen today. The cotton required to achieve this softness is more expensive than used in open-end, which translates to more expensive fabrics and garments.
Lastly, vortex yarns are made by using air nozzles to twist the fibers around themselves. One end of each fiber is entrapped in the core of the yarn, while the other is on the outside layer. This entrapment contributes to Vortex yarns having excellent resistance to pilling. This technology is much newer than open-end and ring spinning.